Zoe
ThorneArt and
custom tattoos
Bio
Born 1967 in New York City, USA. After a childhood spent on the road with hippie parents and international places of residence, Berlin/Germany became my home in 1992.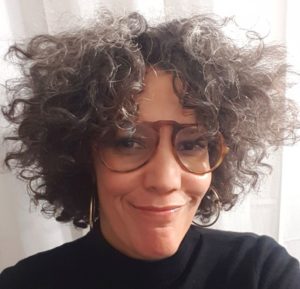 Tattoo
Tattoo-artist since 1994. After apprenticing at Fantasy Tattoo, one of Berlin's oldest tattoo-studios (now closed), owning my own shop and 5 years of international travels, I am back in Kreuzberg 36 since 2010 with my own studio Zoes Zirkus.
25 years tattooing, international guest-spots and working in various studios has led me to develop my own work-method. All my tattoos are influenced by in-depth consultations and an intense exchange of ideas. My creative designs are interpretations of the clients dreams and demands, not pre-existing pictures that get pressed onto the body in some way, expressing only my ego. I place a major emphasis on developing a completion of body/mind for the client, a mosaic of the clients personality and circumstances. The tattoo does not have to be large or figurative, expressive ornamentation or small pictorials are just as valid as a full sleeve or back. I love working in different styles, keeping a flexible creative mind and place highest technical standards on myself.
A positive human interaction is very important to me, which is why I refuse to work with clients where the chemistry is not right or in case we can not reach a consensus of taste. A non-binding consultation is the beginning of the tattoo-process and shows the possibilities of a tattoo and me taking you on as a client.
For scheduling a consultation please send a text-message or an email.
Studio
Zoes Zirkus located Koepenicker Strasse 183A in 10997 Berlin Kreuzberg is an appointment-only studio. To ensure a tranquil work-environment and protect the privacy of the clients, a personal visit is only possible after booking a consultation. The interior is reduced professional and pushes not style or taste to ensure a maximum of creative freedom in all directions. There is a calm ambiance in the spaces to ensure the utmost relaxation, giving allowance to the best possible results.
Art
I work in diverse artistic fields.
My main outlets have been installations bordering on performance-art, Aktionskunst and realistic painting, whereas I now focus mostly on crafted needlework and photography. I do not adhere to limitations in my art, it is my main goal to fully express my creativity and ego, without considerations for commercial success, pleasing the viewer or serving a purpose.
Interior
I create spaces of bliss.
My interior design is focused on utilizing the rooms given and the person living in them. Structures of space, motion sequences within the areas, living requirements and individual personal needs are the bases of my design work. I create custom color-concepts and interiors fitting for rooms and personality, including fitted cabinets and kitchens. My goal is to create the best possible individual environment, without the mindless display of status designer furniture or current trends. My interiors contain a large percentage of vintage furniture and objects, crossing style periods and design eras to mesh into an individual space of wellbeing. I love the challenge of bad floor-plans, very small rooms and eccentric taste demands of my clients!